CineStill has just unveiled the °Cs "Temperature Control System" TCS-1000, an immersion circulator thermostat designed to simply and improve at-home film processing. It's essentially a sous vide stick that has been specifically designed for film photographers.
"The biggest deterrents to at home film processing have been controlling temperature and handling chemistry," CineStill tells PetaPixel. "Inspired by affordable kitchen appliances, cooking thermostats and even a foot-spa, which were themselves inspired by costly laboratory tools for scientific thermoregulation, we have now come full circle. An affordable immersion circulator thermostat for home laboratory use."
Film photographers could previously use sous vide cooking sticks like the popular Anova precision cooker, but CineStill's product has a number of differences and advantages.
First, while sous vide sticks use metal heating tubes that are prone to running hot (and possibly rusting), the TCS-1000 features a positive thermal coefficient (PTC) heating element that is able to heat and cool quickly while being more stable and durable.
"All of the hardware is optimized for lower temperatures than cooking and the firmware is designed for processing film," CineStill says. The TCS-1000 is accurate from 0°C to 95°C (+/-0.1°C), whereas cooking devices usually only handle a higher range of 45°C to 99°C.
And while the TCS-1000 may look strangely similar to sous vide sticks on the market, it was completely designed by CineStill and isn't related in any way to existing cooking products.
Using the CineStill TCS-1000 lets you mix chemistry, heat it up to an exact temperature, and maintain that temperature during the entire development session.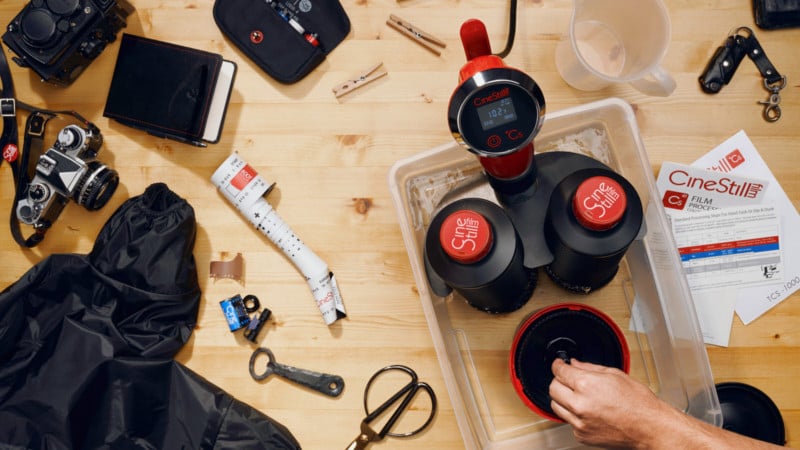 The physical interface is designed to be simple and easy to use, and photographers don't need any extra timers, phone apps, or Bluetooth/Wi-fi connected devices to operate the TCS-1000.
The firmware is specifically made to process film: it has an adjustable two-stage timer for any film process (C-41, E-6, B&W, etc.) in minutes and seconds. You can also quickly toggle between °C and °F readouts.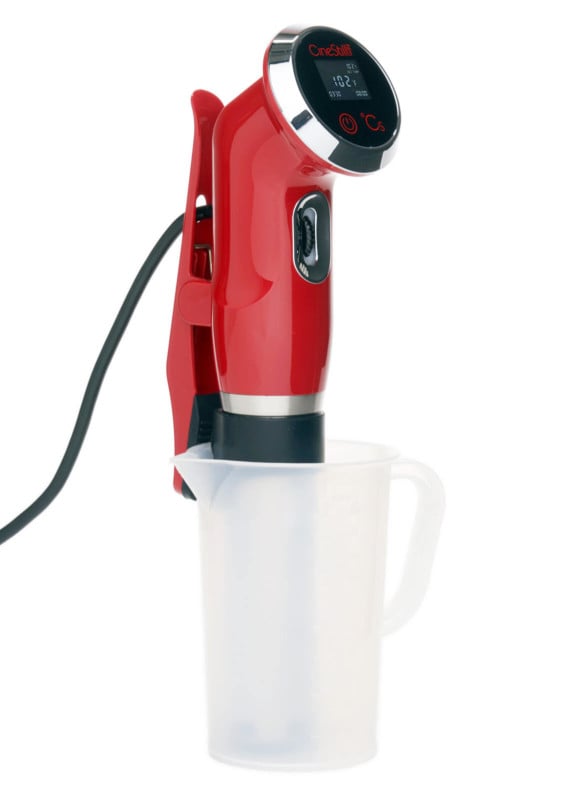 On the bottom of the TCS-1000 is a universal bottle holder that clings to two 1000ml storage bottles.
Other features and specs include a brushless DC motor, a molded impeller, a stainless steel body housing, ground protection, an overheat protection sensor, and a lifecycle of over 4,000 working hours (20-30% longer than kitchen appliances).
The CineStill TCS-1000 will be in stock starting October 10th, 2018, with a price tag of $100.
Source link