Nikon Singapore posted anannouncement on its Facebook page yesterday, congratulating a photographer named Chay Yu Wei for capturing a perfect shot of an airplane framed by a ladder in Chinatown.
Photographers quickly pointed out that the photo is clearly the result of editing, and sarcastic comments soon flooded the post.

"Yu Wei chanced upon a set of ladders while on a photowalk with his friends in Chinatown, and thought the view above would make an interesting perspective," Nikon wrote. "Little did he expect to catch an airplane in mid-air. We'll try looking up too, Yu Wei."
For the photo, reportedly shot with a Nikon D90 at f/2.8 and 1/1600s, Chay was gifted with a Nikon-branded trolley bag.
Upon closer inspection, however, a white box can be seen around the airplane. One commenter points out that a simple levels adjustment reveals this box quite clearly: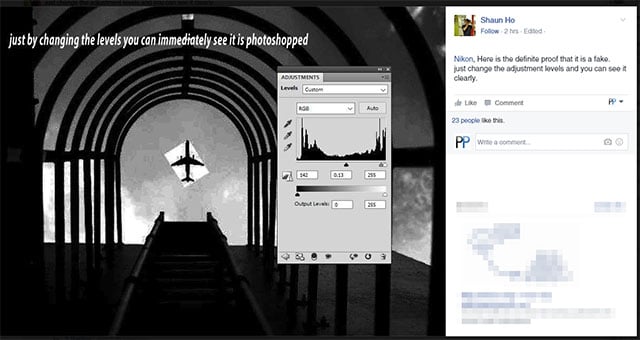 Photographers were merciless in their witty responses. Here's a sampling of other highest voted comments that were left on the post:
The photographer responded to one fan on Instagram, saying that he didn't have to wait too long for the plane because he got "lucky":
At the time of this post, the post and prize-winning photo are still up on Nikon Singapore's page, and there has been no official response from the camera company.
Source link