Hudson Yards, the largest private real estate development in the United States (by square footage) just opened to the public in New York City, and the centerpiece of the Yards is a permanent art installation and giant public structure called Vessel. It's a 16-story landmark with 154 flights of stairs that visitors can climb, but beware: by buying a ticket to Vessel, you hand over rights to photos shot within.
We've received several tips from sharp-eyed readers who noticed the following section in Vessel's Terms and Conditions, which you agree to by buying a ticket: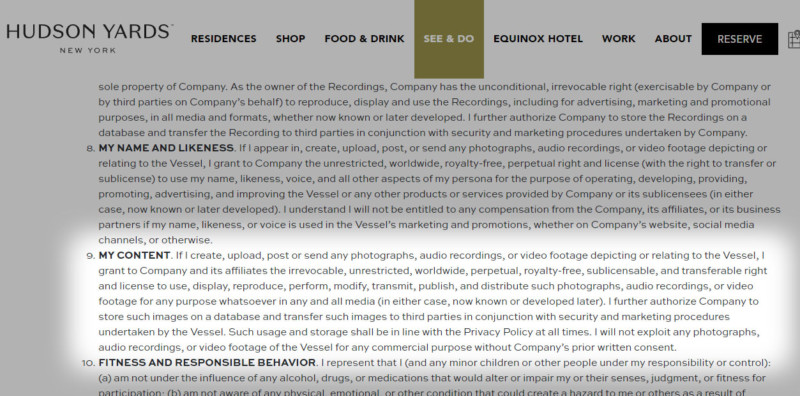 "If I create, upload, post or send any photographs, audio recordings, or video footage depicting or relating to the Vessel," the document reads, "I grant to Company and its affiliates the irrevocable, unrestricted, worldwide, perpetual, royalty-free, sublicensable, and transferable right and license to use, display, reproduce, perform, modify, transmit, publish, and distribute such photographs, audio recordings, or video footage for any purpose whatsoever in any and all media (in either case, now known or developed later)."
In other words, shoot a photo inside the structure, and the operator of Vessel will be able to use your photos for free, forever, anywhere, and for any reason.
And while you're not allowed to use your photos for any commercial purpose, Vessel's operator will even be able to send your photos to third parties for marketing.
"I further authorize Company to store such images on a database and transfer such images to third parties in conjunction with security and marketing procedures undertaken by the Vessel," the document says.
These terms are found inside the 2,700-word document that you by default agree to when buying a ticket to Vessel, which is aiming to be a major landmark and tourist attraction in Manhattan. So now you know what you're agree to if you decide to enter "the new heart of New York."
---
Image credits: Header photographs by Rhododendrites and licensed under CC BY-SA 4.0
Source link