Remember KitSentry? The security-focused camera bag ecosystem raised over $27,000 on Kickstarter back in 2015. Now it appears that both the product and f-stop, the well-known company behind it, are failing.

Resource Magazine has published a lengthy report about how f-stop is "falling apart at the seams."
An early indication of trouble at the company was KitSentry's failure to materialize and the non-existent communication with the 227 backers who put their money toward seeing the idea turn into an actual product.
"F-Stop Gear has delivered no tangible updates and by all accounts has robbed 227 people of $27,039," one backer tells PetaPixel. "They were estimated to deliver the main product of the project nearly 10 months ago."
"Potential buyers should be actively warned that F-Stop Gear considers highway robbery acceptable," the backer says. "F-Stop Gear is an established brand and folks simply don't know this is going on."
He shared with us two older updates on the campaign that only backers can see: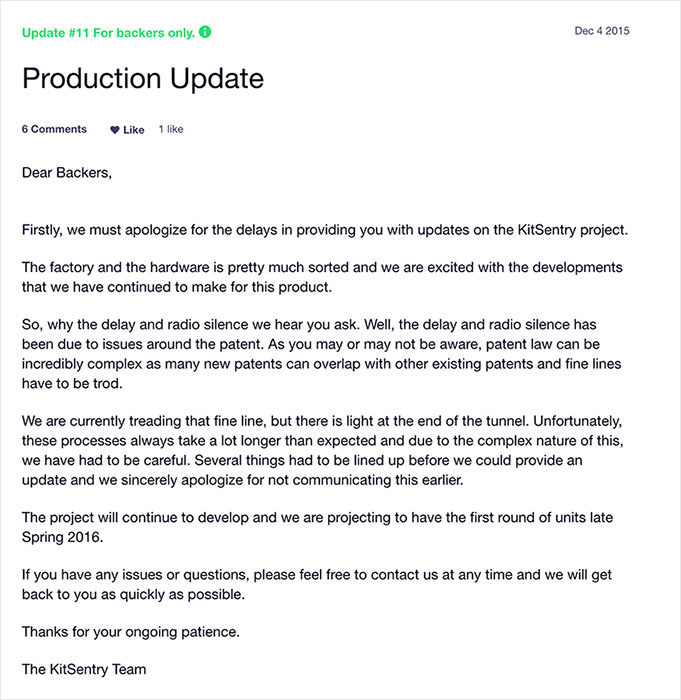 Unlike Triggertrap's failure to deliver on its Ada trigger after raising nearly $500,000, the failure of KitSentry appears to be due to a failing of the company behind it.
An unnamed source close to the company tells Resource Magazine that a "deep rooted reason" why f-stop is failing us due to its management — specifically, the founder, which the source calls "a man of many faces."
The source claims that after f-stop became a recognized name in the photo industry, the owner began focusing more on his "unsustainable" and "expensive" personal lifestyle and side businesses than on growing the f-stop business.
f-stop is also allegedly "millions and millions in debt," reduced from 15 employees to 1 in the US, and at risk of going "bankrupt in the next year," Resource reports. As for KitSentry, it appears to be an abandoned project that unfortunately made 227 photographers $27,039 poorer.
We've reached out to f-stop for comment and will post an update if the company responds.
Source link