Several years ago I developed a technique that I use for light painting in which I take a king size bed sheet and light paint through it to create my images. I recently created this 10-minute video tutorial explaining in detail how to achieve this creative effect.
I am also always looking for ways to push myself creatively and adding new photography techniques while using my sheet technique. Lately, I've been pushing myself to find interesting daytime subjects, such as sunsets, sunrise, moody skies, colorful trees, etc., and using a technique called "racking" or "zoom/pull".
Basically how racking works is that you find whatever subject you are photographing and, using long exposure, you manually move your focal ring forward or backward while your shutter is open creating a zoom effect. I'm using an ND filter for this process to ensure 5 to 8-second exposures and richer balanced contrast through my exposure when doing this racking effect.
Now step two is where it gets really fun. I'm using a Canon 6D, which has an in-camera double exposure setting. It allows me to take my zoom/pull photo that I shot outside and set that image to be light-painted over in my studio.
It is important to note that when using in-camera double exposure, "Additive" is what should be applied — not "Average," because we are adding a new light element to the frame, not an average light source. You have full flexibility using this technique as far as your shutter speed you want to use as well as whatever aperture you want to set, but your ISO must remain as what was originally used for the first image.
Finding that balance can be a little tricky but I have found ISO 640 to ISO 1000, f/7.1-f/13, and a 5-10 second shutter to work well for the first outside image with an ND filter. And for the second inside image, it would again be ISO 640 to ISO 1000 — that can not be changed from the original image — and then f/13-f/22.
This entire process came together perfect the other night when I set out to catch the sunset from the Blue Ridge parkway here where I live in Virginia USA. I noticed the trees looked so amazing with the sunset backlit behind them, so I decided not leave empty-handed and do some zoom/pull images as described above with my Canon 6D and Sigma 24-105mm at f/8, 8″ seconds, ISO 1000, with a Hoya ND filter.
I then took those images I took from that vibrant sunset and used them as in-camera double exposure that I then light-painted over using my sheet technique all done in-camera with my Canon 6D, Sigma 24-105mm at 10s+, f/22, ISO 1000 using my sheet technique.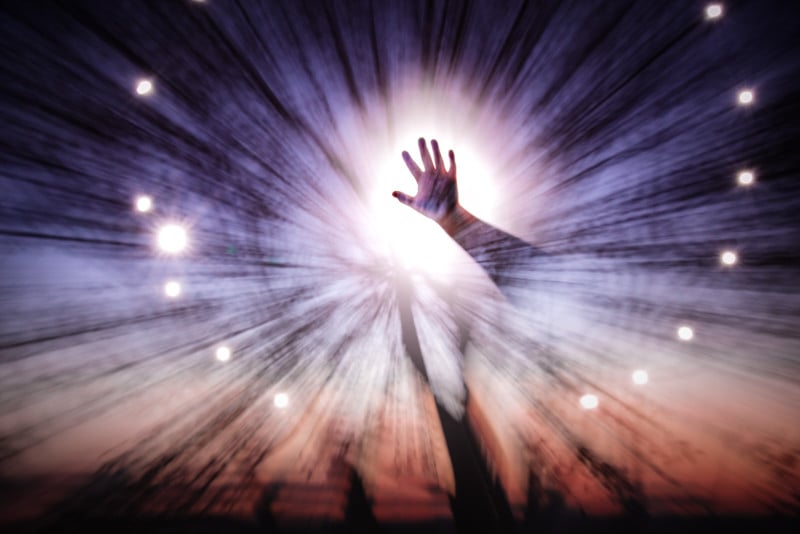 Thank you very much for allowing me to share my creative work process with you.
---
About the author: Jason Rinehart is a light-painting photographer who holds a Guinness Book of World Records achievement in light painting. The opinions expressed in this article are solely those of the author. You can find more of his work on Facebook, YouTube, and Instagram.
Source link