Hobbyist photographer and Twitter product designer Paul Stamatiou recently decided that his 2-year-old iMac was no longer up to the task of handling his high-res RAW photos in Lightroom. Instead of shelling out $13,199 or $7,128 for a fully loaded iMac Pro or Mac Pro, Stamatiou decided to switch to Windows and build himself a custom Lightroom photo-editing monster.
Stamatiou says he decided to ditch his iMac after returning from a trip to New Zealand and spending a year editing 848GB worth of data in the form of 11,000+ 42-megapixel RAW photos and 4K videos.
Gamers commonly build their own battlestations and optimize the hardware and software configurations for achieving the best performance in computer games. Stamatiou optimized his entire build for the purpose of Lightroom photo editing, and even more specifically, Develop module actions.
"Actions in the Develop module are less efficient with multiple cores compared to actions like generating previews, converting to DNG and exporting images," Stamatiou tells PetaPixel. "The Develop module is also the only one with GPU acceleration.
"As such, I opted for fewer cores but with a very high clock speed instead of more cores with a traditionally lower clock speed (for example the 18 core Intel i9 7980XE, which would have been great for a Premiere Pro machine that can more effectively use all cores) and I got a good graphics card for it."
Stamatiou spent $399 on a 6-core Intel Core i7 8700K processor running at 3.7GHz (4.7GHz with Turbo Boost) — the best-performing CPU for Lightroom he could find at the time of this build. Stamatiou also paid to have the CPU delidded (to lower temperatures and increase overclocking) and overclocked it to 5.2GHz on all cores.
The overclocked CPU is water-cooled with a Corsair liquid CPU cooler.
Stamatiou also went big on the graphics card, spending $779 (almost double the price of his CPU) on a Nvidia GTX 1080 Ti. Interestingly enough, in the months since Stamatiou purchased his card, its price has skyrocketed due to overwhelming demand from people who want to mine bitcoin and other cryptocurrencies — just last week the card was selling for a whopping $1,600.
Other components and specs of Stamatiou's computer are 32GB DDR4-3200 CL14 RAM (running at 3333 CL14), and two 1TB Samsung SSD. Here's what the internals of his machine looked after assembling all the components:
Once the computer was built, Stamatiou set everything up at a desk with a Dell 27-inch 4K display attached to an adjustable monitor arm.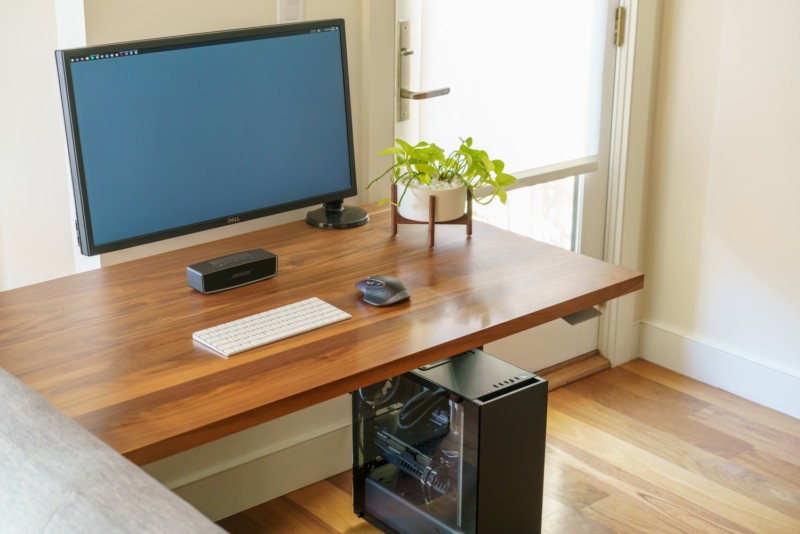 In all, Stamatiou spent pretty much exactly $6,000 on the entire project, from the computer components to the keyboard, mouse, and display.
Even after optimizing the hardware and software for Lightroom performance, Stamatiou still found that Lightroom wasn't extremely fast in managing and editing his high-resolution photos.
"I mean to be honest, even with such a supremely capable machine Lightroom is still not terribly fast," Stamatiou tells PetaPixel. "Overall Lightroom responsiveness in the Library and Develop module has markedly improved from what I'm used to but nothing shocking… still takes about 15 seconds on average to merge a 3-shot 42-megapixel HDR. I don't know what I was thinking but I had hoped that would go down to under 10 seconds.
"But the most shocking thing was that in comparison benchmarks to Lightroom on my older Macs, that 1:1 preview creation, DNG creation and exporting were faster than I was expecting.
"I may begin to start to adapt my workflow to cull outside of Lightroom with something like the Photo Mechanic app.
"The machine is definitely an improvement but not a night-and-day kind of difference. For that to happen, the software just needs to become much more efficient with resources."
Stamatiou has published a comprehensive 32,000 report on how he picked his components, built his computer, and tested the performance. After publishing the piece, Adobe's Tom Hogarty reached out and offered to let Stamatiou try out some Lightroom improvements that are still "in the works":
Paul, I manage the Lightroom products at Adobe and if you're interested we have some improvements in the works we'd like you to try.

— Tom Hogarty (@LR_Tom) January 24, 2018
We also reached out to Adobe regarding recent user complaints of sluggish Lightroom performance (even after new updates that were meant to improve speed) and were told that more Lightroom performance fixes are on the way.
"Lightroom performance is our current top priority," an Adobe spokesperson tells PetaPixel. "The team is aware of the community's concerns and feedback, and customers can expect to see additional Lightroom performance improvements soon."
Source link