My Huawei P30 Pro arrived at 4:30 pm on April 6th, and I knew the night sky in Mersing would be amazing for me to try out this low-light beast. I had read a lot of good reviews on P30 Pro, but I was still skeptical, so I booked a room at my regular resort on the same day and drove 3 hours to get there.
I arrived at midnight and waited patiently for 2.5 hours before I whipped out my P30 Pro and took a snapshot of my resort. Lo and behold! The Milky Way was visible!
To be honest, I didn't expect it to be so easy! All I did was to point and shoot handheld in Photo mode (Master AI enabled automatically) and let P30 Pro perform its magic. Many of my friends asked me what I did to the image, and some even thought I had brightened it, but nope! I did nothing. Nothing at all. Here are more images of my attempts, handheld and unedited.
I also decided to try shooting star trails with it, and I'm happy with the result. I had to stop the shoot after around 32 minutes because I saw a car turning in.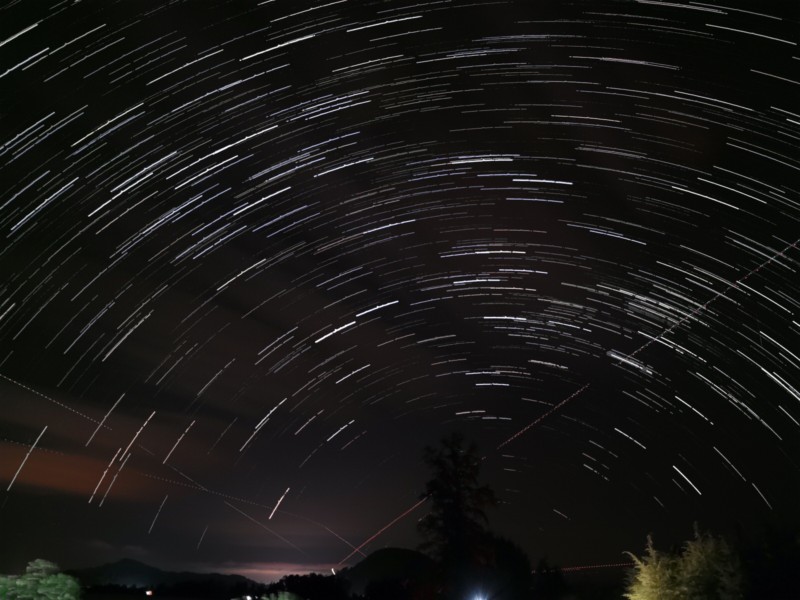 I've also tried shooting the Milky Way in Night Mode but the image quality is not as good as those taken in Photo mode.
After I proved to myself that Milky Way can be photographed handheld with my Huawei P30 Pro in Mersing, Malaysia, I convinced myself that it would be worth bringing the smartphone on my astrophotography trip to Mount Bromo from May 3rd through 6th. And because I think capturing Milky Way and auroras with it is a little too mainstream now, I decided to try and see if I could capture faint meteors and produce a near-DSLR quality Milky Way images with it so I can fill my camera bag with snacks instead.
I've captured many Eta Aquarid meteors with my trusty DSLR at Bromo over the past 8 years but I haven't done any yet with a smartphone, so it would be a first for me.
While my friends were busy setting up their DSLRs, I was busy setting up my P30 Pro on my tripod (which didn't take long). You might be wondering why I didn't try to shoot the meteors handheld. Well, photographing the meteors is unlike photographing the Milky Way, for obvious reasons. I don't know when and where the Eta Aquarid meteors will appear and so I have to mount my P30 Pro on a tripod as I can't hold it with my hands all night.
So, I installed an app called Intervalometer and activated it, causing my P30 Pro to keep shooting according to the exposure time and interval I set. At around 4:33 am on May 5th, a faint Eta Aquarid meteor finally appeared above the active volcano, Mount Bromo, during the blue hour before sunrise and my almighty P30 Pro managed to capture it! I used its ultra-wide angle lens on Pro mode (ISO 3200 and shutter speed 30s) to do the job.
The bright "star" near the Galactic Center of the Milky Way is actually the planet Jupiter. The light pollution below the fog came from the jeeps making their way to the peak to catch the beautiful sunrise.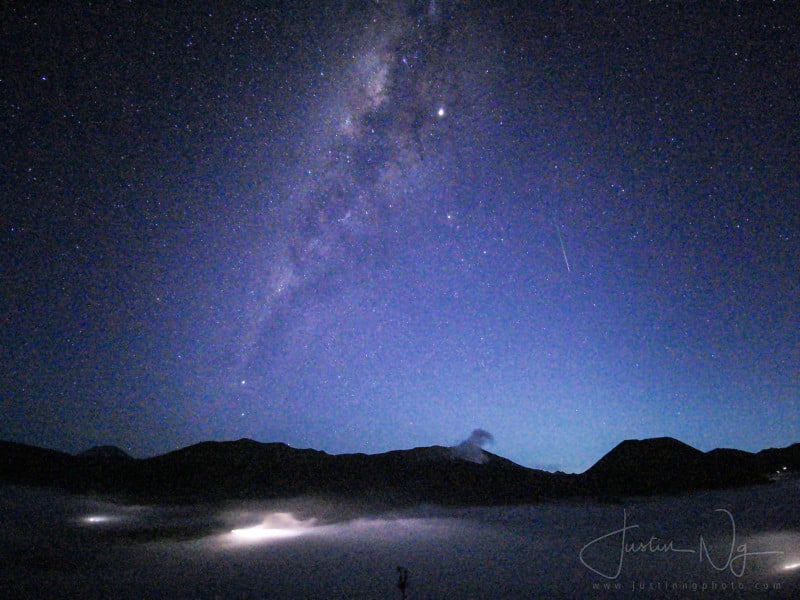 It's extremely noisy, but it's never an issue to me because most unprocessed astro images are noisy anyway. So I took 20 images taken with P30 Pro and stacked them to reduce the noise and you can see the result below. It's amazing.
Now, this is acceptable to me considering that I've only used 20 images to denoise it. I didn't remove the little vegetation below so as to show you that the image was taken from the same spot as the noisy image above. And here's the final denoised image
The faint Eta Aquarid meteor is not in the image now, and that's because I used the 'median' stacking mode — an object that is moving and only visible in one frame will likely 'vanish'. Any object that's not moving or moving very slowly, like the light pollution from the jeeps below the fog, will likely remain there.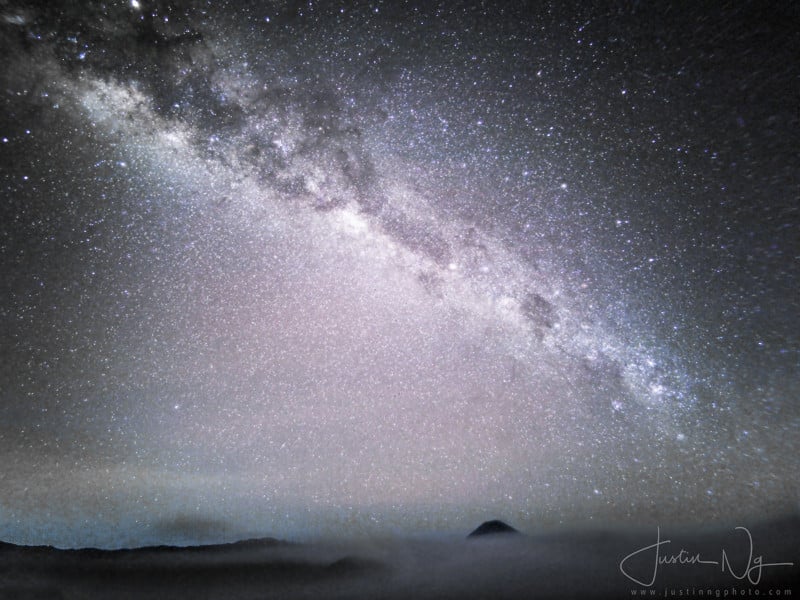 Overall, I find the astrophotography images from P30 Pro to be acceptable, but I would still prefer to use a DSLR for a serious shoot. But then again, the best camera is the one you have with you.
---
About the author: Justin Ng is an award-winning photographer based in Singapore. The opinions expressed in this article are solely those of the author. His work has been published in publications such as BBC, CNN, National Geographic, Yahoo!, Space.com, EarthSky, and UniverseToday. You can find more of his work on his website, Facebook, Twitter, and Instagram. This article was also published here and here.
Source link